SPAWN – Leaving God Behind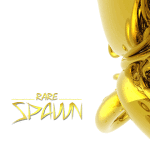 released: 01.06.2005
(EP – 1 Disc)
lyrics english
Take a look at you now. The carnival has started. As you put on your masks you drop your false pretence. Be yourself and let it all out today.No questions asked, no quarter and no sense.
Now come see me shine, and taste of my reality.No disguise. I don't play your games. Your never let me inside. And now I choose "above" over "among".Cannot fill my life with your tautologies.
No connection to your world. Your truths they don't applyTo my questing mind. Your cares and woes now gone,When all is said and done there is one thing left for sure. You can't touch me anymore. Leaving God behind.
Take a look at you now. Your ritual has started.Shaking the hands of people you despise.Fake your smiles your orgasms your feelingsYour concerns are no concern of mine.
And with a flick of the mind, the world devoid of reason.Killing time. Cut off in mid-plea. And I expect you to cry when they tell you the things that I have done.Your perfect life was meaningless to me.
No connection to your world. Your truths they don't applyTo my questing mind. Your cares and woes now gone,When all is said and done, there is one thing left for sure. You can't touch me anymore. I'm leaving God behind. (There is one thing left for sure.) I'm leaving God behind. (You can't touch me anymore.)