SPAWN – Pygmalion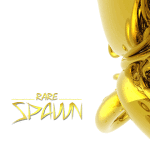 released: 01.06.2005
(EP – 1 Disc)
lyrics english
Hello, how are you won't you come inside Of my car, and taste the wine of life. I can show you what the night is like On my arm, you can be my bride We would dance up to the stars Past Venus and Mars Right up to my door And I would see into your eyes To the times that lay before.
And now you tease me and defy my hold over you And now you reach out and deny that you owe me truth You surpass my every wish laughing away all my dreams And now you teach me to despise what I made of you This perfect irony.
And I just want to make you whole inside After all the wrongs that I have done And I just want you to come home tonight To my side – the place where you belong You would love to hurt my pride Your laughter in the night Mocking all my faults I would see into your eyes To the times we were before.